Efficiency is a filter's ability to capture contaminants. The more efficient a filter is, the more contaminants it will remove from oil. AMSOIL Oil Filters provide a filtering efficiency in accordance with industry standard ISO 4548-12 of 99 percent at 20 microns — one of the best ratings on the market. Some competitors also claim 99 percent efficiency, but at larger particle sizes of 30 to 40 microns.
Less Restriction
Proper oil flow is essential to keep engine parts lubricated at all times. AMSOIL Oil Filters' synthetic fibers are smaller than the fibers used in traditional filters, allowing for lower restriction which decreases engine wear. Our filters allow oil to flow through more easily than a typical cellulose filter does during cold-temperature warm-ups.
Contaminant Retention
A filter's capacity refers to the amount of contaminants it can hold and still remain effective. AMSOIL Oil Filters have a greater capacity for small, wear-causing contaminants than competing filter lines. They last longer and ensure the oil is properly filtered.
Superior Construction
AMSOIL Oil Filters are made with premium-grade full-synthetic media. The strictly controlled processing of this media ensures accurate filter construction and delivers higher capacity and efficiency along with better durability.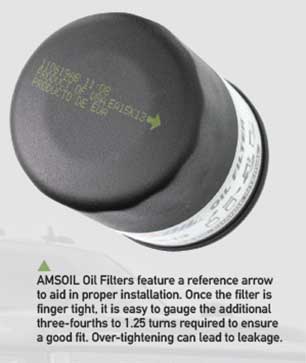 Our full-synthetic media technology is resin-free to resist degradation from hot oil. It features a rigid mesh material that is pleated with the media for superior strength.
AMSOIL Oil Filters are constructed with nitrile gaskets that remain flexible and have been tested to extreme distances in severe environments. They feature fully tucked seams, a molded element seal, roll-formed threads and a long-lasting, premium-grade silicone anti-drainback valve.
Easy-Grip Coating
AMSOIL Oil Filters feature a textured coating to ease installation and removal.
AA In accordance with industry-standard ISO SO 4548-12. *All trademarked names and images are the property of their respective owners and may be registered marks in some countries. No affiliation or endorsement claim, express or implied, is made by their use. All products advertised here are developed by AMSOIL for use in the applications shown.
Recommended Accessories
Filter wrenches with a 3/8" square drive offered by AMSOIL are designed to install and remove AMSOIL Oil Filters and Motorcycle Oil Filters in hard-to-reach locations.
Filter Wrench (64 mm) (GA265) Recommended for EA15K09, EA15K10, EA15K12, EA15K13, EAO14, EAOM103, EAOM103C, EAOM109.
Filter Wrench (74 mm) (GA258) Recommended for EAOM132, EAOM132C, EAOM133, EAOM133C, EAOM137C, EA15K20.
Filter Wrench (76 mm) (GA251) Recommended for EAO17, EAO18, EAO23, EA15K20, EA15K29, EA15K32, EAO34, EAO37, EAO38, EA15K50, EA15K51, EA15K52, EAO55, EAO64, EAOM122, EAOM122C, EAOM134, EAOM134C, EAOM135, EAOM135C, EAOM136C, EAOM138.
Filter Wrench (93 mm) (GA252) Recommended for EAO11, EAO15, EAO21, EAO24, EAO26, EAO27, EAO31, EAO40, EAO42, EAO52, EAO59, EAO98.
Filter Wrench (64 mm) (GA248) Recommended for EA15K01, EA15K02, EA15K04 and EA15K49
Service Life
When used in conjunction with AMSOIL synthetic motor oils, AMSOIL Oil Filters are guaranteed for extended service life:
Filters designated with product code EA15K are recommended for 15,000 miles (24,000 km) or one year, whichever comes first, in normal or severe service.
Filters designated with product code EAO are recommended for 25,000 miles (40,000 km) orone year, whichever comes first, in normal service or 15,000 miles (24,000 km) or one year, whichever comes first, in severe service.
NOTE: Change oil filter at every oil change.
Consult the AMSOIL Product Guide or MyAMSOILGarage™ at www.amsoil.com to determine the appropriate filter for each application. When AMSOIL Oil Filters are used with a motor oil other than an extended-drain AMSOIL synthetic motor oil, the filter should be changed according to the vehicle manufacturer's recommendation.
TECHNICAL SERVICES
For immediate answers to your technical questions call (715) 399-TECH (8324) between 8 a.m. and 5 p.m. Central time or email tech@amsoil.com.
PRODUCT WARRANTY
AMSOIL products are backed by a Limited Liability Warranty. For complete information visit www.amsoil.com/warranty.aspx.